Our Sustainability Story
We aim to grow as a company that contributes to society by exploring the potential of the joy of singing and places to sing.
(1) DAIICHIKOSHO Group background
Growth supported by –
"More music to society, more service to society"
The DAIICHIKOSHO Group's corporate motto is "More music to society, more service to society." Guided by that motto, we have expanded our business from an initial focus on the commercial karaoke business into related areas such as karaoke rooms, restaurants and music.
Our business has been negatively impacted by the pandemic, including the closure of many locations to prevent the spread of infection. However, we believe demand will inevitably recover, as karaoke remains an accessible leisure activity embedded in everyday life.
We promote music culture through karaoke and provide fun places to communicate – in other words, we explore the joy of singing and provide places to sing. Our mission is to pursue the potential of those two areas of our business to support society and all our stakeholders.
(2)The joy of singing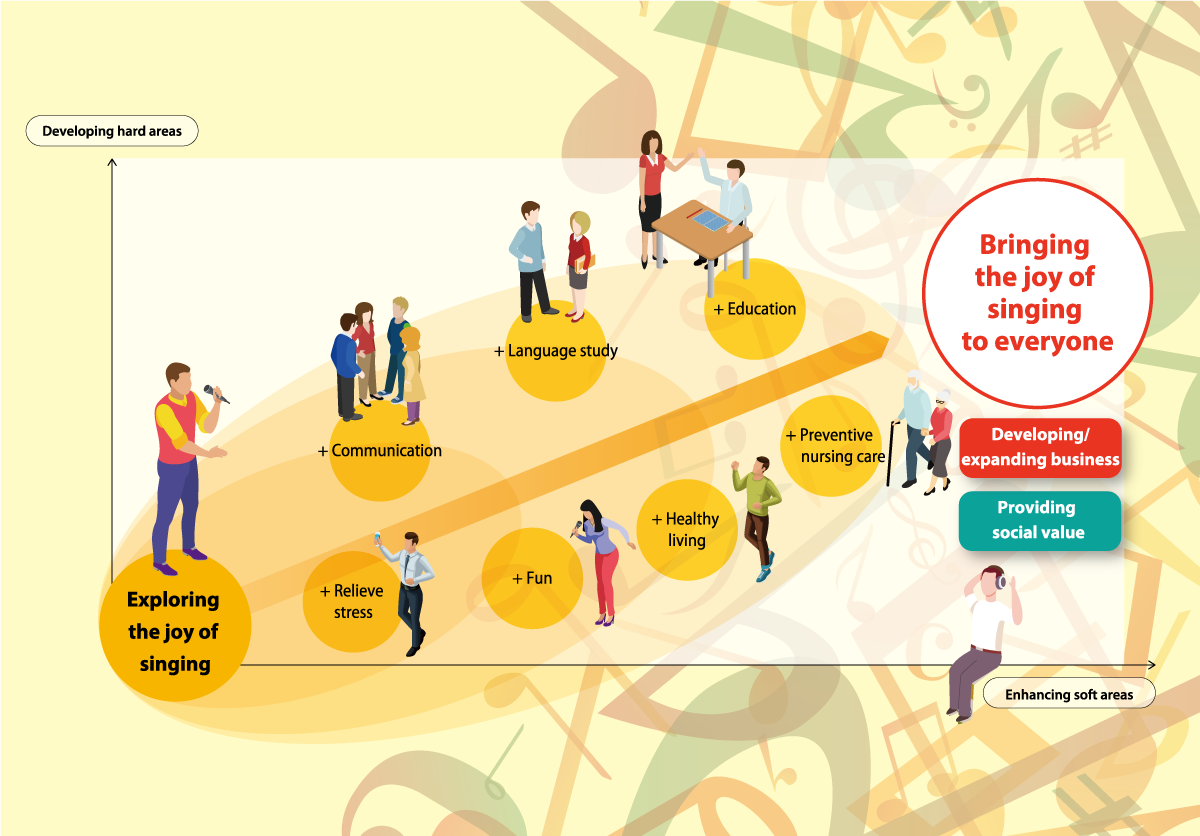 Bringing the joy of singing to everyone
Music can create new markets and help solve issues faced by society
We are developing facilities and equipment (hard areas) and services (soft areas) in our commercial karaoke business to bring the joy of singing to as many people as possible. In hard areas, we have steadily improved equipment and technology over the years to enhance the audio-visual experience – from 8-track tapes and Laserdiscs to online karaoke services (narrowband/analog, broadband/ADSL, optic-fiber, etc). In soft areas, we continue to seek new ways of creating a more fun and realistic experience, such as by improving usability with digital music guides and by enhancing our point-based games and live videos.
The joy of singing can generate value in other ways – it can relieve stress, improve health, prevent the need for nursing care, and support education – creating new markets and helping to solve some of the issues faced by Japan today.
(3)Places to sing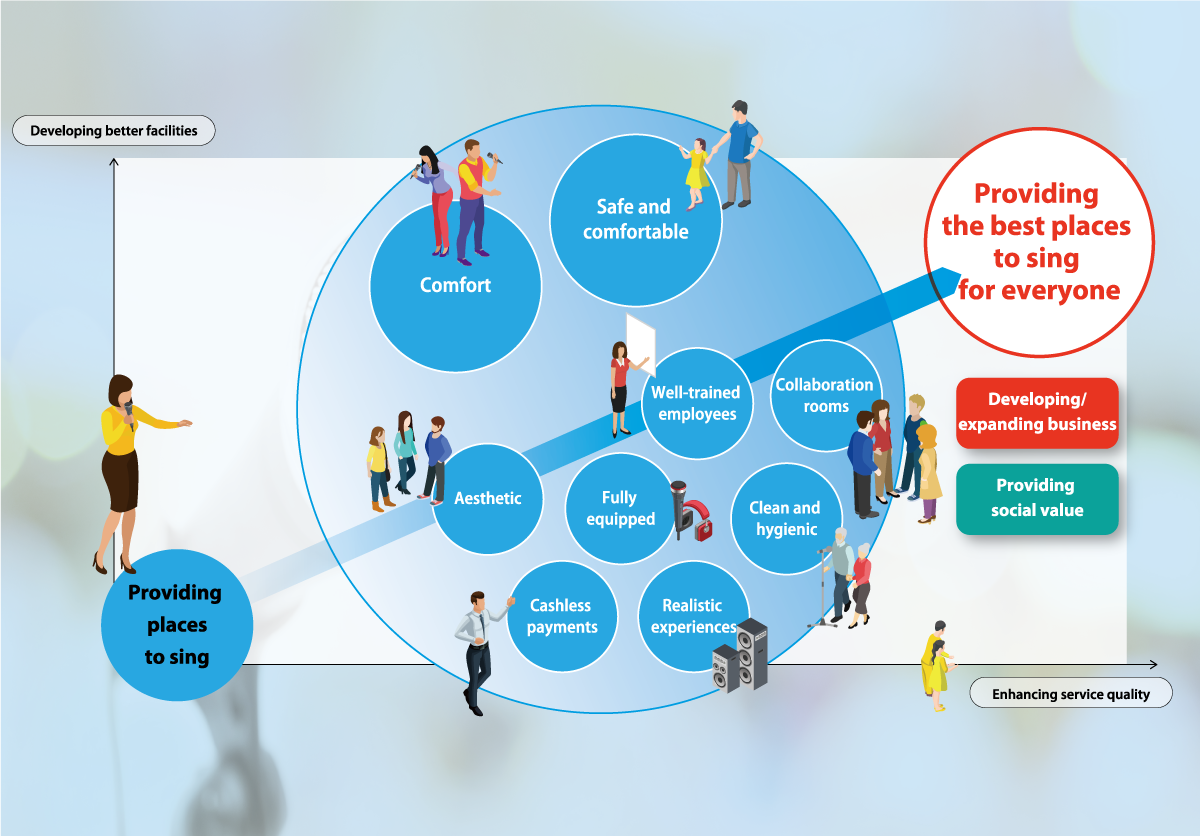 Creating the best environments for everyone
We currently have 689 locations in our nationwide chain, comprising 511 karaoke rooms and 178 restaurants (as of June 30, 2021). Our chain is focused on the BIG ECHO karaoke room brand. Since opening our first BIG ECHO location in 1988, we have worked to create high-quality karaoke rooms that offer fun experiences to as many customers as possible. In addition to basic features such as comfortable and aesthetic spaces, we have introduced the highest quality karaoke machines to create environments where customers can have realistic and fun musical experiences.
We also offer our nationwide locations as disaster shelters and workspaces, helping to support changes in how people work and providing society with help in time of need.
Our goal is to continue providing the highest quality spaces for customers to enjoy karaoke in a safe, comfortable environment.
(4) Increasing corporate value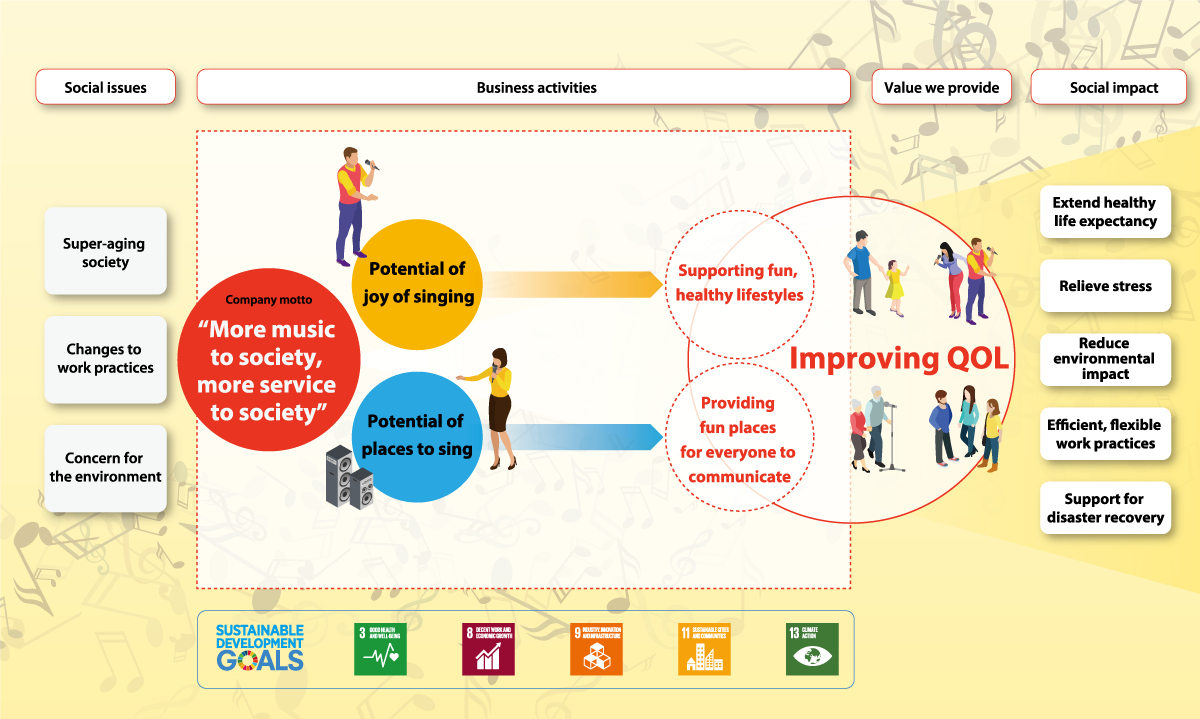 Exploring the potential of the joy of singing to improve customer QOL
Our business model, which aims to explore the full potential of the joy of singing, is helping to solve issues faced by Japan, such as its super-aging society and changing work practices. We are also using our business model to tackle global issues, as set out by the United Nations in its Sustainable Development Goals (SDGs). Going forward, we will continue to contribute to society by exploring the potential of the joy of singing.