Targeting sustained growth as a company that enriches society and makes life more interesting
President
Tadahiro Hoshi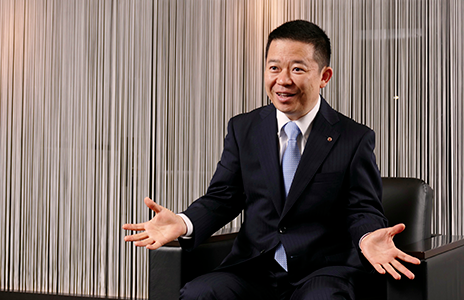 Since it was established, the DAIICHIKOSHO Group has continued to expand by delivering enjoyment and entertainment to society, mainly through the medium of karaoke.

Over the years, conditions in the karaoke market have changed dramatically along with society. The development of karaoke machines with echo effects allowed people to sing to an audience with a microphone, while karaoke boxes took the trend even further, creating more opportunities for younger generations to express themselves through music. Against that backdrop of change, DAIICHIKOSHO helped establish karaoke as a culture in its own right by providing places for people to meet up and deepen relationships by dining and talking together, as well as sing. Japan's constitution states "All people shall have the right to maintain the minimum standards of wholesome and cultured living." At DAIICHIKOSHO, we believe it is our duty to add color to people's lives to supplement those basic rights. That belief is driving our growth as a company.

More than anything, we want people to enjoy singing, as expressed in our corporate motto, "More music to society, more service to society." We also want our employees and business partners to help realize our vision for creating places and services related to singing, because without their support DAIICHIKOSHO has no future. One of our strengths is the way our commitment to pleasing customers and helping them have a great time has naturally flowed through each generation of employees since the first days of the Company.

Today, we are seeing even greater need for places that offer fulfillment and encourage communication to counter issues associated with modern living, such as rising stress levels and health concerns associated with aging. We want to do our part to alleviate those issues by pursuing the possibilities of music. For example, we continue to work with national and local government bodies, universities and companies on research into the health benefits of singing, which can help reduce stress levels and prevent the onset of dementia. We are also offering new value to society through our core business by offering our facilities and locations as workspaces or disaster shelters to tackle issues faced by society.
In addition, we are actively working to reinforce the foundations of the Company by reducing environmental impact, such as energy usage, building robust governance systems and raising awareness of compliance.

Karaoke is ostensibly an industry based on memories – when our customers sing songs from each era in their past, it brings back memories. It is also an industry based on health and wellbeing – when our customers sing songs, it helps to relieve stress and balance their mind and body. By continuing to promote music culture through karaoke and provide fun places to communicate, we aim to sustain growth as a company that enriches society and helps to make life more interesting.